A business credit card is an excellent choice for the founder of a start-up. Keeping personal and business finances separate is beneficial, but it can also help you manage cash flow, build business credit, and earn rewards and perks that put money in your pocket.
Which card is right for you and your company? We have compiled a list of the best business credit cards for startups. Choose one that is right for you. Using cashback cards can boost your net worth even as you spend, and travel credit cards can make business trips more enjoyable and cost-effective.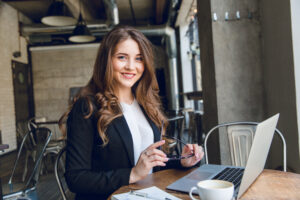 How to Choose the Right Business Credit Card for Your Startup
You need to ask yourself a few questions when you are considering a business credit card for your young business:
Are you trying to build your business credit?
Would you like travel rewards if you travel a lot?
Would you like cashback rewards?
Would you like an introductory APR at 0%?
By answering questions like these, you can narrow down your choices.
The best business credit cards for startups
We have categorized four great business credit cards for startup companies to make it easier for you to choose. Please note that card offers can change and terms may apply.
1. Bank of America Business Advantage Customized Cash Rewards Mastercard: Best for category cash back
Mastercard and credit cards from the Bank of America offer 3% cash back on categories , such as gas stations, office supply stores, travel, computer services, business consulting, television, telecom, and wireless service. If you spend $50,000 or more on choice category/dining charges, you will earn 2% cashback, and 1% after that.
You can earn up to 75% more cashback with a Bank of America business checking account. Rewards will be issued as a statement credit, a mailed check or a deposit into your checking or savings account. Additionally, it offers a $300 statement credit bonus after you charge $3,000 within the first 90 days.
Find the best credit cards for startups on our list. For longer payment terms, check out our Net 90 Vendors list. Manage expenses and build credit for your new business.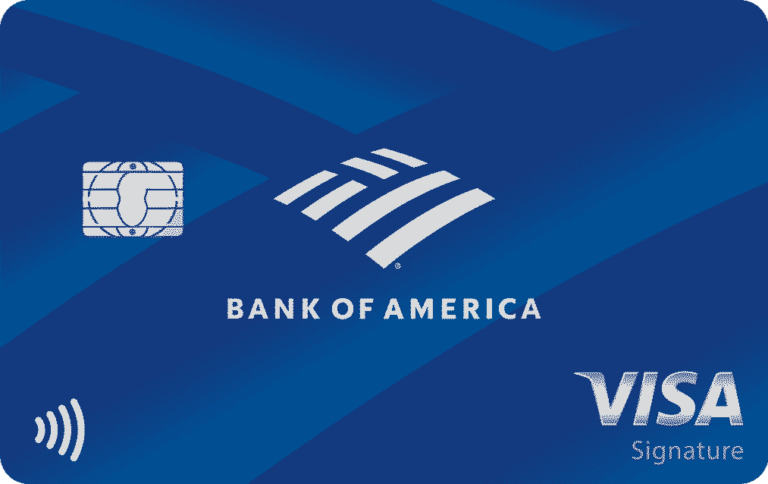 There is no annual fee
Cashback rewards have the potential to be very high
0% APR for the first nine billing cycles (followed by variable APR between 12.24% and 22.24%)
Bank of America checking account required for elevated rewards rate
Rewards cannot be transferred to airlines or other loyalty programs
2. Ink Business Preferred Credit Card: Best for business travellers
Chase's Ink Business Preferred® Credit Card offers a generous sign-up bonus of 100,000 points. To qualify, you must spend $15,000 within the first three months. This card is designed for travellers who want plenty of airline and hotel options. You'll receive a 25% discount when you book through Chase's Ultimate Rewards loyalty program. Whenever you make a transaction in an international location, you won't be charged a fee.
This credit card offers plenty of flexibility since it is not affiliated with a specific airline or hotel chain. In a startup, you may not know where you're going, so this freedom is especially appealing. Furthermore, it offers free employee cards, and you'll be notified when any changes are made.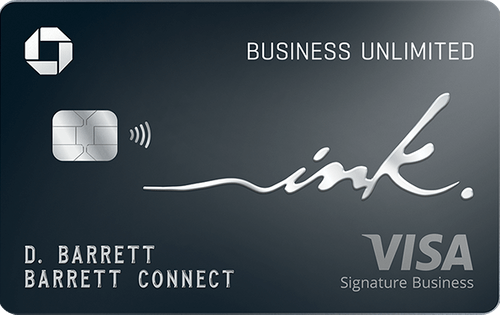 A low annual fee of $95 compared to the rewards.
Get 3X points on travel, shipping, internet, cable, and phone services (on combined purchases up to $150,000 per year).
Flexible redemption options, including travel, statement credits, Amazon.com purchases, and gift cards.
The bonus has a high minimum spend requirement.
This credit card does not offer an introductory APR at 0%.
3. Capital One Spark Cash Plus: Best for cashback
Capital One Spark Cash Plus rewards you with cash. If you charge $5,000 within the first three months of opening the account, you'll get $500; if you charge $50,000 within the first six months, you'll get $500. If you pay your balance in full by the due date, even with the $150 annual fee, you'll still benefit.
You'll receive unlimited 2% cashback on every purchase you make, as well as a $200 annual bonus after charging at least $200,000 that year. Employees can receive credit cards at no charge, and there are no foreign transaction fees. As this is a charge card, you can spend on almost anything without hitting a limit.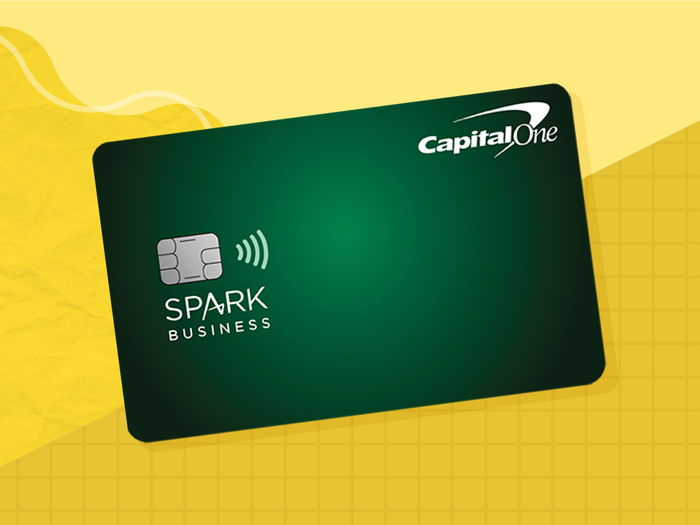 Up to $1,000 in sign-up bonuses.

Bonus cash back of $200 per year.

Cashback rewards of 2% on all purchases.
The annual fee is $150.

In order to qualify for the biggest bonus, you must spend a lot.
4. American Express Blue Business Cash Card: Best for 0% APR
American Express Blue Business CashTM Card combines great cashback rewards with an introductory 0% APR offer and cashback welcome offer, making it an excellent choice. There is also a flexible spending limit. "From workflow to inventory to floor plans, your business is constantly changing," Amex says. With Expanded Buying Power, you have the power to spend beyond your credit limit. Don't forget that you are not allowed to spend more than your credit limit. The rate varies depending on how you use the Card, your payment history, credit history, financial resources known to American Express, among other factors."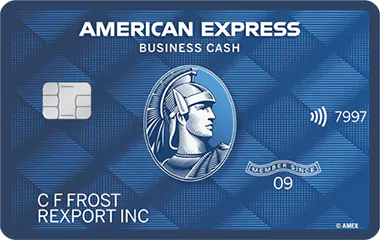 2% cashback (up to $50,000 per year, then 1%).
There is no annual fee.
Purchases for 12 months at 0% APR (then 13.24% to 21.24% variable APR).
There are no strong travel benefits.
After reaching the spending cap, rewards drop to just 1% cashback.
Pros and cons of using startup business credit cards
Credit cards for your business should work for you, not against you. Find out what the pros and cons of using one are for your startup.
You don't have to finance your startup yourself.
Business loans typically require a lengthy business history, whereas business credit cards do not.
You can keep financing charges to a minimum by managing your account responsibly.
Business cards offer valuable rewards so you can make the most of your spending.
You may not qualify for business credit cards right away if your personal credit is damaged.
High or no preset limits can make it easy to get into unmanageable debt.
If you have long-term debt, interest will add to your costs.
How to qualify for a business credit card for startups
Small business credit cards are one of the few business financing options available to startups with at least one year of business or substantial revenue.(And yes, when you carry a balance, you are borrowing money; the credit card issuer is the lender.)
There are a few business credit cards with minimum business income requirements, but most will accept income from all sources and will ask about the business as well as personal finances to qualify. A personal guarantee is almost always required for credit cards.
A business credit card requires what credit score?
Small business credit cards require excellent credit Score. Some require a personal credit score of 720 or higher, but others are more flexible. It's a good idea to build business credit as soon as possible for your startup, even if very few business card issuers check credit scores.
Can I get a business credit card with bad credit?
Business credit cards for those with bad credit are few and far between, and they usually take the form of secured business cards. There are several financing options for startups if you don't have a good credit history, such as crowdfunding or net-30 terms, neither of which check personal credit.
Pro Tips: Here are the top 15 Net 30 vendors that offer net 30 accounts to facilitate customers with the "buy now, pay later" policy and help to build credit scores.
New LLCs can get credit cards?
Yes, your LLC is eligible for a credit card. However, you should be aware that major card issuers will ask you for personal information when you apply, and a personal guarantee may also be required. The card will be issued in the name of the business, but the person who applies agrees to be liable for payments if the business does not pay.
Getting a business credit card for startups
Most startups will apply for a business credit card online, but the bank where you have your business bank account may also offer a business credit card. A small business credit card is usually a better fit for a brand new business than a corporate card.
How do I apply for a business credit card?
When you start your business, you can usually apply for a business credit card. This is true whether you are an independent contractor, a sole proprietor, or a freelancer.
However, these cards are geared towards small business owners, so you should obtain your company's Employer Identification Number (EIN) from the IRS before you apply. A Social Security Number is also required for the personal credit check.
Is it better to use a business credit card instead of my personal credit card for my new business?
You asked a great question, so we're glad you asked. The following are three significant benefits of using a business credit card for business purchases:
You can keep your personal and business expenses separate by using a business credit card. You will be able to track business spending more easily, which will make tax time and maintaining a budget much less stressful.
By getting a business credit card, you'll start to build a separate credit score for your business. This means that if you are late with a payment, your business credit will be affected rather than your personal credit (there are exceptions-find out which business credit cards report to personal credit bureaus here).
You will increase your business' credibility by establishing a business credit profile. Your business credit score can help you qualify for more financing at a better rate when you apply for another business loan.
In order to be successful as a startup, you'll need to have the right credit card on hand. These products are perfect for those purchases that you know you can pay off within a short time frame. As you do, you'll enjoy many benefits of business card ownership.